GOTO is a vendor independent international software development conference with more that 90 top speaker and 1300 attendees. The conference cover topics such as .Net, Java, Open Source, Agile, Architecture and Design, Web, Cloud, New Languages and Processes
Peter Espersen, Tweet
Online community lead at Lego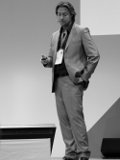 Peter Espersen is the Online Community Lead for the LEGO Group focusing on the 13+ age group. Peter spearheads online community and social media, when engaging teen and adult fans of LEGO, and works closely with a wide range of business units across the company.

In the past, Peter has been the Country Manager for Sulake in Denmark and Norway. Sulake runs Habbo Hotel that has almost 12 million users worldwide. Previous to that, Peter has been the development manager of all digital platforms at Danish TV2 where he was responsible for developing the commercial possibilities.

Peter Speaks is a regular speaker at conferences within Communities, Social Media and Gaming in Denmark and abroad, and guest lectures at The University of Copenhagen, and the ESCP Program in London.


Twitter: @VirtualPeter
The LEGO Group was founded 79 years ago in a time of recession, based on a vision that quality toys would always be a needed commodity, and that vision is still the backbone of the organization, and have formed the company into an award-winning innovation hub, with numerous successes in product launches. But there have also been financial recessions and failures, and the big question is whether you are willing to learn from your mistakes?
Get insights on how the LEGO Group have honed its innovation power, started listening to its consumers and have learned from failures.