GOTO is a vendor independent international software development conference with more that 90 top speaker and 1300 attendees. The conference cover topics such as .Net, Java, Open Source, Agile, Architecture and Design, Web, Cloud, New Languages and Processes
Attendee demographics

The GOTO Audience

GOTO Conferences are Enterprise Software Development Conferences designed for team leads, architects, developers and project managers. Since 1996 Trifork has been organizing these conferences which started in Aarhus as JAOO. The conference has turned into a worldwide conference and is organized in different locations all over the world. Trifork organizes GOTO Conferences in Aarhus, Amsterdam, Chicago and Zürich.

The targetgroup consists of software developers, IT architects and project managers. Our international speakers are authors, experts and practitioners across various areas of software development.
Unlike many conferences where speakers fly in and fly out, invited speakers are full conference participants, ensuring attendees and sponsors to interact and engage personally with these experts over the entire duration of conference. This makes a GOTO conference an immersive networking experience where top developers can exchange ideas, experiences and knowledge with peers and thought leaders.

GOTO Attendee Companies include:
42 B.V., 10gen, Align Technology, AMC UVA, AMIS Services, Azul Systems, Basho Technologies, Bol.com, Cake Solutions Ltd, Capgemini, Cerios, Crystalloids Innovations, Consumentenbond, De Nederlandsche Bank NV, DSEN, Elmar Reizen, Embarcadero, Greetz, Geodan IT, Hippo, IndependentIP, INFOPROFS BV, Inter Access, IT-eye, Jpoint B.V., Luminis Apeldoorn, Marktplaats, Mintsource, Mirabeau, Morpho, Obvious Matter, Present Plus, Planon, Rabobank Nederland, Sanoma Media, SDU, Sociale Verzekeringsbank, SoftLayer, Sogeti Nederland B.V., The Java Group, ThiemeMeulenhoff, Trifork, UPC Broadband Operations B.V., University of Amsterdam, Utrecht University, TomTom, Xebia Nederland BV, Zilverline.

In addition, the conferences attract top professors from Universities around the world from Canada to China and we also have around 80 University doctorate
volunteer crew members
helping out at each event.t.
Attendee Demographics
Last year we had approximately 300 attendees at the conference. Next year we hope to welcome around 400
Attendee Demographics by Occupation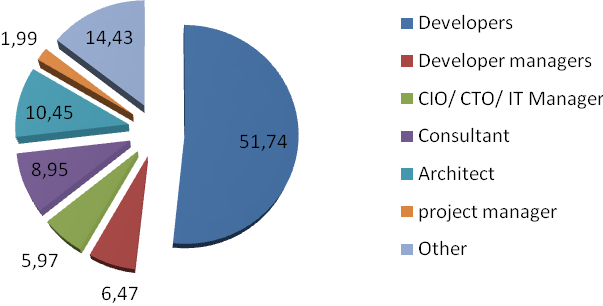 Attendee Demographics by Nationality