GOTO Berlin is a vendor independent international software development conference with more that 60 top speaker and 400 attendees. The conference cover topics such as Java, Open Source, Agile, Architecture, Design, Web, Cloud, New Languages and Processes.
Axel Morgner, Tweet
Founder & CEO at Structr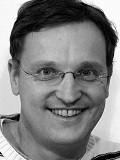 Axel Morgner, Founder of Structr—a free, open-source CMS and Content Management Framework based on the graph database Neo4j. He previously founded inxire, and was consultant and project manager at Oracle. After leaving the enterprise SQL world behind in 2010, he enjoys now being back to cutting egde technology every day. He's based in Frankfurt/Main, Germany.
Track:
Solutions Track
/
Time: Thursday 14:30 - 15:20
/
Location: Estrelsaal C8
In this talk, I will introduce Structr 1.0, the first stable release of the award-winning open-source Mobile and Web Application Framework and Content Managment System based on Neo4j. Among other topics, the talk will be about what Structr provides to users and developers, how Structr works under the hood, and I will show how you can easily visualize and interact with graph data over REST in your mobile or web application.