GOTO Berlin is a vendor independent international software development conference with more that 60 top speaker and 400 attendees. The conference cover topics such as Java, Open Source, Agile, Architecture, Design, Web, Cloud, New Languages and Processes.
Edward Scotcher, Tweet
Experienced Lean & Agile Trainer and Coach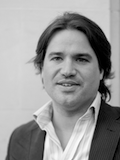 Edward Scotcher Experienced Lean & Agile Trainer and Coach
Ed realised very early on in his career as a web developer that he was never going to be managed sensibly, be given clear requirements or get to build anything useful - so he decided to focus his efforts on learning how to lead projects in a way that helps teams deliver instead. That decision took him wildly out of his comfort zone and on a long journey of practical project management and product delivery enlightenment.
Through the years, he has worked at the unglamorous coalface of organisational change and IT delivery, working with teams large and small to help them get stuff done at organisations such as The Financial Times, BBC, UK Government, ITV, ASOS, Global Radio and the RSA Insurance Group, amongst others. He passionately believes in "individuals and interactions over processes and tools", understanding that no system, framework or method can be the magic answer, but only the creativity, enthusiasm and optimism of real people can lead to success.
These days Ed splits his time between training, coaching and business consulting. He does this through a company called Agility in Mind, which is made up of experienced experts who share the same desire to use use lean and agile principles to develop better people, teams and products.
Twitter: @chiefmoamba
Using his grass-roots experience from the frontline of Agile project management & product delivery, Ed reflects on some of the most common, yet simple, problems that he encounters most frequently and offers some thoughts, tips & tricks that could help you see them coming, avoid them or resolve them.
This easy-to-digest presentation is designed to give you ideas that you can take away and start using from the moment you get back to your workplace.