GOTO Berlin is a vendor independent international software development conference with more that 60 top speaker and 400 attendees. The conference cover topics such as Java, Open Source, Agile, Architecture, Design, Web, Cloud, New Languages and Processes.
Daniela Schiffer, Tweet
Co-Founder at Changers.com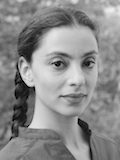 Daniela Schiffer co-founded the startup Changers.com in 2010 in Berlin. She has a background in digital media arts and has worked in communications agencies where she was closely involved with high-tech companies, specifically in the field of green energy and photovoltaics.
Having always been passionate on how the usage of media changes our society, she collaborated on different media art projects, contributing to projects such as reboot.fm and giving lectures in the Hochschule für Gestaltung und Kunst in Zurich as well as workshops at Radio B92 in Belgrade. Her work has been presented at hack.it.art in 2005, Tesla Berlin, Hochschule für Gestaltung und Kunst in Zurich and Gemäldegalerie Berlin in 2006. She works as a mentor at Startup Bootcamp, Berlin Geekettes, Berlin Startup Academy and ITU.
Twitter: @DanisTweet
1. Short Talk by Daniela Schiffer: "Changers.com - The new hardware is social"
It's no news that we are living in a highly interconnected world. But this interconnectivity is not stopping in the digital world. More and more devices in our daily lives are communicating with humans and/or other devices. The so called internet of things or as Cisco puts it, the Internet of everything has started years ago but is now reaching the tipping point where it becomes main stream. There will be no consumer electronics released into the markets without the ability to communicate or being embedded in digital ecosystems. At Changers we use these new ways of interaction to encourage and motivate our users to behave in a sustainable way. With a toolkit borrowed from social games and loyalty systems we motivate people in a positive and playful manner where we can reach them best. In their everyday lives. To be a little bit greener every day and have fun with it.
2. Short Talk by Jacob Fahrenkrug: "Discover a new world at home"
yetu AG develops an open smart home platform that connects the open internet, new smart devices and any other internet service. yetu thereby creates a consistent internet experience across all operating systems and devices. yetu connects everything at home with one single piece of hardware. The technology stack is complete open source and encourages the community to contribute to the mission of creating an open and secure smart home experience. To achieve all this yetu develops a reference stack for the smart home gateway based on Eclipse Smart Home which bridges the multiple different communication standards currently available in the smart home market and makes everything available to the web-developer community by making the smart devices at your home programmable as easily as any other internet service in the cloud.
3. Short Talk by Paul Hopton: "WunderBar: The ultimate Internet of Things starter kit for software developers."
The WunderBar is the easiest way to create innovative and useful apps to connect smart devices. It works out-of-the-box, contains 6 wireless (BLE), sensors, and Wifi-enabled master module, and is dead-simple to program. Sensors include: Light, color, distance, temperature, humidity, remote control (IR), accelerometer, and gyroscope, a Grove Connector, and noise/sound sensor which was chosen by the community! WunderBar was also designed to be the easiest way to create IoT applications that complete your software in the easiest way possible.