GOTO Berlin is a vendor independent international software development conference with more that 60 top speaker and 400 attendees. The conference cover topics such as Java, Open Source, Agile, Architecture, Design, Web, Cloud, New Languages and Processes.
Eberhard Wolff, Tweet
Freelancer / Head Technology Advisory Board adesso AG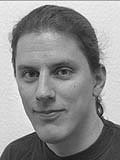 Eberhard Wolff is one of the initial 20 members of the Java Champions, and author of three books including the first German book on Spring.
Currently, Eberhard is working as a freelance consultant, architect and trainer. He is also head of the Technology Advisory Board for adesso AG. He is currently interested in Continuous Delivery and technologies such as NoSQL and Cloud.
As well as a published author, Eberhard is a regular speaker at international conferences and author of several articles.
Links:
Personal website: ewolff.com
Twitter: @ewolff
Blog: andIandMe.blogspot.com
Book: Spring 3 - Framework für die Java Entwicklung
DevOps and Continuous Delivery originate from Start-ups. Enterprises are a different and difficult environment: Organizational structures are much harder to change. So adopting DevOps is much more complicated. Releases are done infrequently - and often there is no need to put out releases or features quickly. This talk looks at what DevOps and Continuous Delivery provide for enterprises and proposes approaches to adopt these techniques.