GOTO Berlin is a vendor independent international software development conference with more that 60 top speaker and 400 attendees. The conference cover topics such as Java, Open Source, Agile, Architecture, Design, Web, Cloud, New Languages and Processes.
Enrique Comba Riepenhausen, Tweet
Bon Vivant, Software Craftsman, Fool, Maker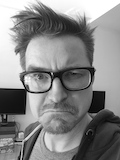 Enrique has been crafting software for businesses since 1995 and has worked all over the world, building systems and leading teams in industries like artificial intelligence, gaming, insurance, telecoms, trading and the web.
He has used a myriad of languages and frameworks, but over the years he has moved to simple solutions that get the job done in the most productive and elegant way. Currently he is Head of Education at Makers Academy where he helps remarkable people become world-class beginners.
Twitter: @ecomba
Since it's inception the Software Craftsmanship movement has evolved. The initial cry for "Craftsmanship over Crap" has receded tremendously. The craftsmen, or instigators of the movement have retired into "doing" rather than talking. Their voices have been heard.
During this period time many of the people behind the original manifesto have continued their journey. Enrique Comba Riepenhausen has consciously been living the life of a journeyman, developing his knowledge, honing his skills and travelling to companies all over the world. Today he will speak about how his experiences have altered his outlook and what drives him now.