GOTO Berlin is a vendor independent international software development conference with more that 60 top speaker and 400 attendees. The conference cover topics such as Java, Open Source, Agile, Architecture, Design, Web, Cloud, New Languages and Processes.
Markus Andrezak, Tweet
Co-Founder of überproduct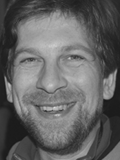 Markus is a veteran of the German internet He did research on semantic networks when they didn't yet bear the name. Since the late nineties, he is designing and developing relevant internet products. In 1998 he started designing and delivering products and technology for AOL and Compuserve Germany, to differentiate their offerings in Germany.After that he consulted such diverse European corporations as Heidelberger Druck, Aventis and Philips.
He then helped with the conception and delivery of two new online products for the Scout-Group and supported many other projects in that context.
2007 he came to mobile.de and changed the way, how products were developed. He first introduced Scrum and then Kanban and shaped processes and technology for delivering the international marketplaces, using new, rapid ways and methods. Finally, he took over the mobile product department.
In 2012 he supported MyHammer in a complete remodeling of the product and business model and the definition of a mobile strategy, based on user centric methods.
Markus is also the author of many publications and talks in the international Agile and Kanban community. In 2012 he was nominated for the Brickell Key award and became an invited fellow of the Lean Systems Society. He also is certified Innovation Games facilitator.
Twitter: @markusandrezak
Agile has been doing great in enabling us with options. Options to react fast and in high quality. But what do we need those options for? We need options to create the right products for customers. We need options to react to ripples or earthquakes in the market. Otherwise, a new tab from amazon or google might mean your end. In order to be strategic about product, companies need insight. Empathy creates the right insights. But empathy needs depth and sometimes large batch sizes. In this way, sometimes Agile's religious belief in small batch sizes and quick iterations is a local optimization, being in the way of "doing the right thing". This talk will introduce a framework for business empathy and agility with the aim of creating the right products as a goal.