GOTO Berlin is a vendor independent international software development conference with more that 60 top speaker and 400 attendees. The conference cover topics such as Java, Open Source, Agile, Architecture, Design, Web, Cloud, New Languages and Processes.
Tobias Pfeiffer, Tweet
Passionate SW Dev, Rails Girls Coach, Mentor, Teacher, RUG::B Organizer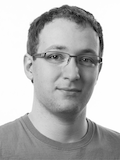 Tobi is a clean coder, Rubyist, learner, teacher and agile craftsman by passion. He organizes the Ruby User Group Berlin and contributes to shoes and hacketyhack. He has a special neck for teaching, which is why he is a frequent coach at Rails Girls Berlin and also started to teach a course at a university.
Website: pragtob.info
Github: github.com/PragTob
Twitter: @PragTob
Blog: pragtob.wordpress.com