Arne Roock, Tweet
Lean and Kanban Trainer and Coach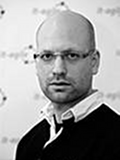 Biography:
Arne Roock
Arne Roock is working as a Trainer and Coach for Lean and Kanban proxy
for it-agile GmbH in Germany. He wrote several papers on lean/Kanban and
translated the book "Kanban - Successful Evolutionary Change for Your
Technology Business" into German.
Presentation: Tweet"BOF: Kata - the programmer's daily fight"
Time: Thursday 19:15 - 20:15
/
Location: Room 102/103
Coding Katas (jap., literally meaning "form") attracted wider interest through the Software Craftsmanship Movement. Katas provide a good way for programmers to improve their coding skills. We give a short introduction into the concepts behind Coding Katas, present a Coding Kata and comment it live. Further more Arne Roock (2nd Dan Shotokan Karate) will perform a real Karate Kate to show the roots of Kata.

Sign up for the BOF here
Presentation: Tweet"Kanban Primer - A play by Arne Roock, Bernd Schiffer and Markus Andrezak"
Track:
Lean and Kanban
/
Time: Friday 10:35 - 11:35
/
Location: Falconer Salen
The Kanban Primer is a stage play by stage play veterans Arne Roock, Bernd Schiffer and Arne Roock, which will introduce the principles and even some more intricate aspects of Kanban in an entertaining way that still transports the relevant information.
Rather than experiencing Death by Powerpoint, lean back and enjoy the show and rest assured to have a ground level of knowledge on what Kanban is and what it is not and how it may be applied. The story of the play is based on Kanban implementation at real companies.