Cameron Purdy, Tweet
Vice President of Development at Oracle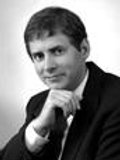 Biography:
Cameron Purdy
Cameron Purdy is Vice President of Development at Oracle. Prior to joining Oracle, Mr. Purdy was the CEO of Tangosol, whose revolutionary Coherence Data Grid product provides reliable and scalable data management across the enterprise. Mr. Purdy has been working with Java and Java-related technology since 1996, regularly participates in industry standards development and is a specification lead for the Java Community Process. As a software visionary and industry leader, Mr. Purdy is a frequent presenter at industry conferences and has received a number of awards in recognition of his contribution to the Java community, including three times being named as a JavaOne RockStar and being recognized in TheServerSide's "Who's Who in Enterprise Java".
Presentation: Tweet"Voice for the Voiceless: The Internet and how it became the Next Best Hope for Earth"
Track:
IT in the World
/
Time: Wednesday 14:05 - 15:05
/
Location: Room 202/203
Abraham Lincoln, an American president facing the specter of a civil war, said "We -- even we here -- hold the power, and bear the responsibility. In giving freedom to the slave, we assure freedom to the free -- honorable alike in what we give, and what we preserve. We shall nobly save, or meanly lose, the last best hope of earth." Over the past few months, we've witnessed a radical reshaping of governments both through response to their citizenry and by revolution. Contrary to the hopeless dystopian predictions of George Orwell's 1984, these popular movements organized, fueled and documented their history in the making using social networking and other Internet-based technology. This presentation will examine both how these tools were leveraged, and how we can work to ensure that the Internet will continue to give a voice to the voiceless.
Presentation: Tweet"Keynote: C++, Java and .NET: Lessons learned from the Internet Age, and What it Means for the Cloud and Emerging Languages"
Track:
Keynote
/
Time: Thursday 18:05 - 19:05
/
Location: To be announced
Java's appearance at the dawn of the Internet Age helped to propel it to near-instant prominence, and lodged cross-platform virtual machines and garbage-collection firmly into our mainstream consciousness.
Did Java have an evolutionary advantage over C++, or was it simply propelled by the "dot-com bubble"?
In retrospect, what were the actual efficiency advantages provided by the new platform and language, and were they sufficient to give it significant comparative advantage in the emerging class of web and enterprise applications?
And despite the grip that these languages exerted on "enterprise" applications, how did scripting languages such as PHP, Python and Perl manage to thrive and multiply?
Looking forward, what do these lessons teach us about the applicability of technology to emerging challenges and environments such as Cloud Computing, and what language capabilities will be necessary in this new age of software as a result?