GOTO is a vendor independent international software development conference with more that 90 top speaker and 1300 attendees. The conference cover topics such as .Net, Java, Open Source, Agile, Architecture and Design, Web, Cloud, New Languages and Processes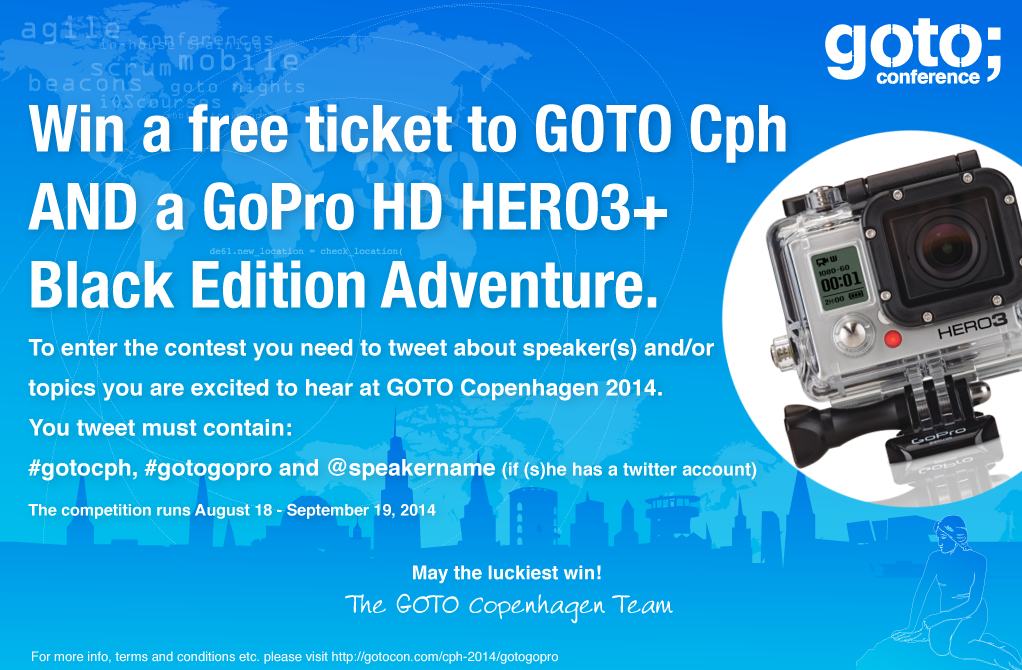 GOTO GoPro
Enter to WIN a GoPro & Free Conference Ticket
Here is your chance to get a free ticket to GOTO Copenhagen AND win an awesome prize, a GoPro HD HERO3+ Black Edition Adventure. We will also be giving away GOTO Bags each week. To enter the contest you need to tweet about speaker(s) and/or topics you are excited to hear at GOTO Copenhagen 2014.
Rules:
You tweet must contain:
#gotocph

#gotogopro

@speakername (if (s)he has a twitter account)
Examples:
At #gotocph I want to see @speakername1, @speakername2 & Speaker Name3 - hope to win a #gotogopro too :-)
I'm looking forward to hearing @speakername talk about #subject at #gotocph. #gotogopro
At #gotocph I hope to learn more about #subject. #gotogopro
Contest period: August 18 - September 19, 2014
We will draw two GoPro HD HERO3+ Black Edition Adventure + twoday conference ticket winners. The first winner will be drawn September 1, and the second winner will be drawn September 19. Every Friday during the contest period we will draw a winner of a GOTO Conference bag. You participate in the competition each time you tweet and meet the tweet requirements mentioned above - that is: The more you tweet the more chances you have to win! If you tweet before September 1 your tweet will count as a ticket in the GoPro + conference ticket draw both September 1 and September 19. The winner of the GOTO Bag will be drawn among the tweets tweeted that particular week.
We will contact you via Twitter if you are one of the lucky winners. The GoPro price will be handed over to the winners at GOTO Copenhagen, and we will encourage you to do a small "GOTO GoPro" video of your GOTO conference experience, that we may upload on our YouTube channel and use for marketing purposes.