GOTO is a vendor independent international software development conference with more that 90 top speaker and 1300 attendees. The conference cover topics such as .Net, Java, Open Source, Agile, Architecture and Design, Web, Cloud, New Languages and Processes
Christof Oberholzer, Tweet
CTO at Bison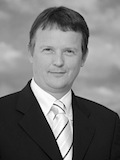 Christof is CTO at Bison, a Swiss company known for its Business Software for Agrarian, Wholesale and Retail, Food and Beverage, as well as Manufacturing a Business Software Development Framework called Bison Technology.
He looks back at over 30 years of IT experience, having worked before for companies such as Landis & Gyr, Rockwell Automation and Scala Business Solution.
Bison Technology is the high sophisticated Business Software Development Platform. Forward and Reverse Engineering is efficiently supported to develop new applications and migrate current applications. This session explains the business approach for application development and teh advantages developing Business Applications with Bison Technology.