GOTO Zurich for Leaders is the combination of break-through technology with management 3.0 and leadership. As a premier software conference, GOTO Zurich for Leaders cultivates this combination. When creating the GOTO conference, we strive to design a specific program for leaders to foster all aspects of excellence. GOTO Zurich for Leaders emphasises the presentation of the latest experience and trends in leadership and management, to unleash the full potential of software development.
Dr. Alexander Grêt, Tweet
CEO HaslerRail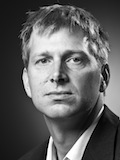 Dr. Alexander Grêt is CEO of HaslerRail AG, a Switzerland based Technology Company that exports safety products and services into the global Railway industry.
He has worked in various R&D organisations as a Developer, Project Manager and Team Leader. His experience spans industries from Oil Exploration, Robotics, Banking and Technology Consultants.
Time: Thursday 15:50 - 16:40
/
Location: Pendulum
Agile methods are still a big hype. Some of it good and necessary, some becomes more a religion than a tool for a purpose. Don't get me wrong – I am a fan. I think there are very few projects in today's world that don't require some form of agility in their process. I also believe, however, that all the discussions about how and when to introduce such methods into an organization are unnecessary and boring. Everyone in an R&D environment has an obligation towards it's employer to work in an efficient, creative and high quality fashion. So if that means agile – do it with agility – no excuses about old stubborn board members please! I will try to share some of my experience working with Agile teams from both my R&D and Management background. I will try to convince you that every organization can be Agile if change comes from the bottom up – but almost every organization will fail if it expects that the change should come from top down.