GOTO is a vendor independent international software development conference with more that 90 top speaker and 1300 attendees. The conference cover topics such as .Net, Java, Open Source, Agile, Architecture and Design, Web, Cloud, New Languages and Processes
Chris Fabian, Tweet
UNICEF innovation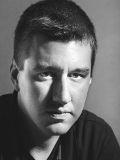 Christopher Fabian is the co-lead of UNICEF's Innovation Unit in NY. The Innovation Unit focuses on how technology for development can benefit the organization and improve the lives of children. The work done by the team in New York is thematically centered around Health, Education, Child Protection and Nutrition. Operationally the team looks at everything from uses of new and existing technologies to improve UNICEF's work in the field to new types of partnerships for engaging external thinkers in developing solutions to some of the world's most pressing problems.
The group works exclusively with scalable, adaptable open-source technologies and ensures that local capacity and technical knowledge-building "in country" is a priority in every prototype and engagement.
Specializing in the confluence of media, technology, education, and communication, Christopher has been with UNICEF since 2006. His academic background is in Philosophy and Philosophy of Literature from the American University in Cairo and Trinity College, Dublin. Prior to New York, Christopher was working in the private sector in Tanzania and Egypt and teaching in Lebanon.
Track:
IT and Society
/
Time: Monday 14:30 - 15:20
/
Location: Store Sal, BORA BORA
UNICEF's Tech4Dev teams work closely with private sector and academia to create open-source scalable solutions to some of the world's most challenging problems. These solutions (which often, simply, use the magic of technology to create faster paper) are built with end users in some of the most difficult operational environments on the planet. Recent successes have RapidFTR – a tool that uses mobile devices to register unaccompanied children and reunite them with their families after disasters and RapidSMS – an open-source platform for developing enterprise, national scale mobile data collection systems. Recent failures have included a prototype emergency information kiosk and a partnership to collect stories from children using mobile phones. Based on some of these successes and failures, this discussion will examine how to realistically and authentically engage the global technical community (developers, engineers, designers, etc.) in the challenges of international development and how to ensure that those engagements create the next generation of hackers, thinkers and builders in the places where their skills are most needed.
Keywords: mobile, design for development, humanitarian emergencies, collaboration, realtime data, tech4dev, east Africa, teaching open source
Target audience: designers, developers, pm's, people interested in engaging humanitarian challenges, open source evangelists, team leads