GOTO is a vendor independent international software development conference with more that 90 top speaker and 1300 attendees. The conference cover topics such as .Net, Java, Open Source, Agile, Architecture and Design, Web, Cloud, New Languages and Processes
Laurent Sansonetti, Tweet
Founder, HipByte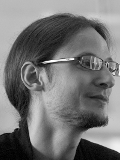 Laurent is the founder of HipByte, a software tools startup that recently launched RubyMotion, a toolchain for iOS development in Ruby.
He worked at Apple for 7 years as a senior software engineer, on both iLife and OS X. A long time rubyist, he created and still maintains the MacRuby project. In a previous life, he worked on IDA Pro and was an active contributor to RubyCocoa and GNOME.
Track:
Mobile Revolution
/
Time: Wednesday 11:30 - 12:20
/
Location: Lille Sal, Musikhuset
RubyMotion is a revolutionary toolchain for iOS development using Ruby. With RubyMotion, developers can finally write full-fledged native iPhone or iPad apps in Ruby, the language you all know and love. In this session, we will cover how RubyMotion works and how easy it is to write an app with it.