GOTO Berlin is a vendor independent international software development conference with more that 60 top speaker and 400 attendees. The conference cover topics such as Java, Open Source, Agile, Architecture, Design, Web, Cloud, New Languages and Processes.
Britta Weber, Tweet
Developer at Elasticsearch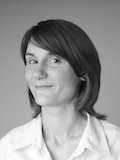 Britta Weber was lured away from a career in academic research on image processing by all that's awesome in Elasticsearch. She joined the company in May 2013 as a software engineer in the company's Berlin office. When not writing code and thinking about machine learning, she enjoys singing renaissance madrigals.
Twitter: @a2tirb
Elasticsearch, Logstash and Kibana are three open source tools for storing, searching and analyzing big data in a distributed fashion. The most well known use case for using them together is log analysis. In this talk, I will demonstrate how to get from the inscrutable outputs that our servers leave us with today, to insight into how what is actually going on on our systems. If you have too many logs and too little time, this is the talk for you!