GOTO Berlin is a vendor independent international software development conference with more that 60 top speaker and 400 attendees. The conference cover topics such as Java, Open Source, Agile, Architecture, Design, Web, Cloud, New Languages and Processes.
Gojko Adzic, Tweet
Strategic Software Delivery Consultant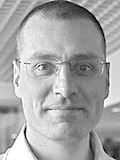 Gojko Adzic is a strategic software delivery consultant who works with ambitious teams to improve the quality of their software products and processes. He specialises in agile and lean quality improvement, in particular agile testing, specification by example and behaviour driven development. Gojko is the author of the Impact Mapping book. His previous book, Specification by Example, was awarded the #2 spot on the top 100 agile books for 2012 and won the Jolt Award for the best book of 2012. In 2011, he was voted by peers as the most influential agile testing professional, and his blog won the UK agile award for the best online publication in 2010.
Twitter: @gojkoadzic
Blog: gojko.net
User stories are often misunderstood as small bits of requirements that help postpone analysis - but that's not what adaptive planning should be about. Adaptive plans help organisations turn a changing landscape into a competitive advantage, react faster than the market and accelerate product discovery. Postponing analysis is a very small piece of that puzzle. Gojko Adzic will show you how investing ten more minutes into each user story will help you make them ten times more effective.