GOTO Berlin is a vendor independent international software development conference with more that 60 top speaker and 400 attendees. The conference cover topics such as Java, Open Source, Agile, Architecture, Design, Web, Cloud, New Languages and Processes.
Gregor Hohpe, Tweet
Chief IT Architect at Allianz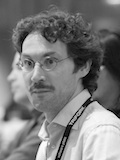 Gregor is a recognized thought leader on asynchronous messaging and service-oriented architectures. He is widely known as co-author of the seminal book "Enterprise Integration Patterns" and as frequent speaker at conferences around the world. His accessible, but technically accurate essays were republished in "97 Things Every Software Architect Should Know" and "Best Software Writing". He is an active member of the IEEE Software editorial advisory board.
As Chief IT Architect at Allianz, Gregor is responsible for driving the digital transformation of the insurance business. Find out more about his work at eaipatterns.com
Twitter: ghohpe

In many companies and communities the title "architect" has become associated with negative connotations: architects are the people who live in the ivory tower, are out of touch with reality, and make poor decisions driven by the quest for irrelevant technical ideals. Because these architects can't code, they bestow their thoughts upon developers with PowerPoint slides and wall-sized posters.
At the same time "enterprise architecture", the ostensibly most detached of all architectures, is rapidly gaining in popularity in large enterprises. Is this yet another proof that corporate IT is 10 years behind technical evolution? Or do these guys know something the rest doesn't?
This talk presents insights, anecdotes, and war stories from the unlikely journey of a Silicon Valley developer turned IT enterprise architect.