GOTO Berlin is a vendor independent international software development conference with more that 60 top speaker and 400 attendees. The conference cover topics such as Java, Open Source, Agile, Architecture, Design, Web, Cloud, New Languages and Processes.
Jesper Richter-Reichhelm, Tweet
Head of Engineering at Wooga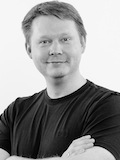 Jesper works as Head of Engineering at Wooga, one of the most popular developers of mobile games in the world. It's his job to make sure that developers can work happily and efficiently and usually he does that by letting those who know things best make their own decisions: the developers themselves.
Jesper is passionate about playing and working on games as well as developing highly scalable software that is used by millions of players. He also loves sharing his knowledge and passion at conferences.
Twitter: @jrirei