GOTO Berlin is a vendor independent international software development conference with more that 60 top speakers and 600 attendees. The conference covers topics such as Java, Open Source, Agile, Architecture, Design, Web, Cloud, New Languages and Processes.
Thank you for taking your time to read our latest newsletter.
This is the content of the newsletter sent on Friday, October 30, 2015. We hope you enjoy it. You can sign up for the GOTO Berlin newsletter on this page in the bottom right corner.
GOTO Berlin Black Friday
Dear GOTO Berliners,

GOTO Berlin is just around the corner and we want to give you a treat before all other treats.

This year's Black Friday is on November 27. We know that you will probably have a lot on your plate on that date already. So we open our own special Black Friday on November 13. THIS WEEK!

Only on Friday November 13, 2015 we will go back in time and for 24 hours (midnight to midnight) the conference ticket will only cost:



Mark your schedule and invite all your acquaintances, colleagues, friends and family to join us at GOTO Berlin 2015.


LEGO® MINDSTORMS® Robot Competition
Another perk to be part of GOTO Berlin 2015: On the evening of December 3rd we will have a LEGO® MINDSTORMS® Robot Competition during the conference party. The competition is for GOTO Berlin participants only, so join in to be a part of this great fun. ??
(You don't need to own a LEGO® MINDSTORMS® set, we will send you one to participate.)
Registration and Game Rules are online here.

The winner will receive a new LEGO® MINDSTORMS® set and a trophy.
We are looking forward to going into SPACE with you at GOTO Berlin.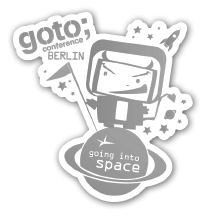 See you all in December,
Your GOTO Berlin team