GOTO is a vendor independent international software development conference with more that 90 top speaker and 1300 attendees. The conference cover topics such as .Net, Java, Open Source, Agile, Architecture and Design, Web, Cloud, New Languages and Processes
Patrick Linskey, Tweet
Chief Architect of Cisco Spark & GOTO Chicago Program Committee Member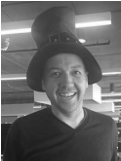 Patrick Linskey is the Chief Architect of Cisco Spark, Cisco's enterprise collaboration and messaging product. His responsibilities include general design and implementation oversight of the Cisco's next-generation Cloud Collaboration Platform, and the messaging and meeting clients that connect to it. This includes a focus on privacy and security of end-user communications.
Before Cisco, Patrick was a founding engineer at Versly (acquired by Cisco in 2011), focused on document-centric collaboration solutions. Before that, he spent a decade working on enterprise data access solutions at SolarMetric, BEA Systems and Oracle, where he led development of the WebLogic Server EJB 3.0 solution.
Patrick is a member of GOTO Aarhus Program Advisory Board.
Twitter: @plinskey