GOTO is a vendor independent international software development conference with more that 90 top speaker and 1300 attendees. The conference cover topics such as .Net, Java, Open Source, Agile, Architecture and Design, Web, Cloud, New Languages and Processes
Zamir Syed, Tweet
Enova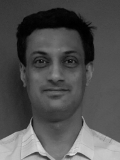 Zamir is a software engineer at Enova International though his background is a bit non-traditional. In 1999 Zamir received his PhD in mathematics and landed a job at Goldman Sachs as a financial-engineer working in their High-Frequency-Trading unit (formerly The Hull Group). For fifteen years he traversed the HFT landscape writing software, solving math problems and managing money. In 2014 Zamir decided to make a career change and found his way to Enova where he is now a lead engineer. He is fascinated by the world of web development and always looks for ways to adapt engineering techniques from HFT into his work. In his free time Zamir enjoys teaching mathematics to talented children and has been coaching high school math teams for several years. He also believes that one of the greatest inventions of this millennium is the longboard.
Time: Tuesday 13:55 - 14:45
/
Location: Promenade Ballroom A
High-Frequency Trading has had its share of media exposure the last several years. But few can deny that HFT has been a significant contributor to the development of high-performance computing and low-latency architectures. A couple years ago, after having worked in HFT for nearly 15 years I decided to try something new. So I disembarked the trading ship and joined my current employer Enova to work in web development. In this talk I would like to share of few of my experiences during this transition.