Lau Jensen, Tweet
Founder of Best In Class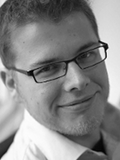 Biography:
Lau Jensen
Lau is a Danish National who has been involved in software development for many years. After ending a career as a Project Manager at a Danish Consulting company, he launched his own firm Best In Class.
Best In Class is more than a name as it expresses the determination Lau has for pursuing the highest quality in all his dealings and Clojure is central to achieving this goal.
Lau has personally built industry applications using Clojure, which are deployed in the Danish Health Care industry, the Energy Sector and in Financial Trading - All of which have been tremendously successful.
To get a feel for Laus approach to Clojure, you are recommended to visit his
blog
.
Presentation: Tweet"UserGroup-Meeting: Clojure stars and you"
Time: Thursday 19:15 - 20:15
/
Location: Room 202/203
This is a (micro) conference in a conference :) We have a couple of mini talks, open discussion and a hacker-session.
Participants: Christophe Grand, Lau Jensen, Stefan Tilkov, Stefan Richter,... and YOU.
Agenda
Talks about DSLs & macros, persistent data structures, convincing your boss/customer to use Clojure, using Clojure in real-life projects.
Discussion
Open hacker-session: show, discuss, improve your Clojure.
Questions:
Karl Krukow: kkr@trifork.com