CTO Agile-Team, PDC A/S Leo Schou-Jensen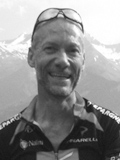 Biography:
CTO Agile-Team, PDC A/S Leo Schou-Jensen
LeoSchou-Jensen has more than 25 years' experience in IT projects in PrologDevelopment Center. From the first project of developing Turbo Prolog forBorland International over many projects for information, systems for decisionsupport in Emergency management, systems for speech recognition, planning forairports and airlines and other industry areas. The development teams have beenlocated in Copenhagen, and with an outsourcing group in St. Petersburg. The latestyears have had the focus on agile development and development of theAgile-Team™ tool for supporting this.
Presentation: Tweet"Agile-Team - supporting the agile organization"
Agile methods offer the potential for substantial improvements in both productivity and quality. But there are several elements that must be present before agile development is delivering the expected benefits.
With Agile-Team, we give you our version of a tool to support agile development. Learn how Agile-Team can both support teams using agile methods such as SCRUM or Kanban, but also traditional waterfall and fixed contract projects. With Agile-Team™ you can handle the entire project portfolio in a single tool.
See how a simple and flexible handling of backlogs, roadmaps, releases, iterations and priorities can ensure focus on delivery of business value and profit.
Learn how Agile-Team can support a dynamic planning process that can handle the inevitable changes that come during a project, instead of creating conflict between a static plan and a dynamic reality.
See how flexible resource management can be implemented in Agile-Team with a separate handling of resource allocations and the assignment of resources to individual tasks. Hear also how it is possible to manage agile offshore projects, how customer support can be integrated, how defect management can be integrated, how a tool can support all project information, etc.
Attendees won't need any previous experience with Agile-Team, but basic understanding of agile methods is assumed.