Mattias Skarin, Tweet
Kanban and Lean Coach, Author of "Kanban and Scrum, making the most of both"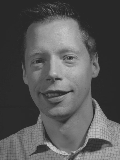 Biography:
Mattias Skarin
Sun Tzu once said the ultimate responsibility of generalship is manover into a position of success.How do we do this in software? This is my quest.I work as a Lean and Kanban coach, creating systems that leverages the combined effort of many. I problem solve in place, building people, so you can walk on by your own.During my journey I've helped helped several software teams deliver with confidence, scaled Scrum over multiple teams (cutting game cycle time from 24 months to 4) and improved life at operations and support using Kanban.
I'm an author of the book "Kanban and Scrum, making the most of both" and regularly train and coach in Lean, Kanban and TDD.
Presentation: Tweet"10 pitfalls when implementing kanban"
Track:
Lean and Kanban
/
Time: Friday 15:35 - 16:35
/
Location: Falconer Salen
Kanban? Sounds cool. Copy a board design and off you go.. After 3 weeks no one updates the post-its anymore and the kanban experiement falls into entropy death. You start wondering.. "why did we start kanban in the first place?" Let me share some pitfalls; built on experiences from support, operations and development.
Target audience: Developers, System administrators, Managers, Project Managers, Product Owners