GOTO is a vendor independent international software development conference with more that 90 top speaker and 1300 attendees. The conference cover topics such as .Net, Java, Open Source, Agile, Architecture and Design, Web, Cloud, New Languages and Processes
Ash Furrow, Tweet
Mobile Engineer at Artsy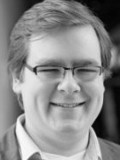 Ash Furrow is a Canadian iOS developer and author, currently working at Artsy. He has published four books, built many apps, and is a contributor to the open source community. On his blog, he writes about a range of topics, from interesting programming to explorations of analogue film photography.
Twitter: @ashfurrow
Track:
iOS and Swift
/
Time: Monday 17:00 - 17:50
/
Location: Marselisborg
In this presentation, Swift Advocate Ash Furrow explores the best practices that have emerged from the open source community over the past year. From small tips and tricks to grand architectural advice, you'll leave more excited than ever to use Apple's new programming language.