GOTO is a vendor independent international software development conference with more that 90 top speaker and 1300 attendees. The conference cover topics such as .Net, Java, Open Source, Agile, Architecture and Design, Web, Cloud, New Languages and Processes
Vladimir Sneblic, Tweet
Lead Consultant at ThoughtWorks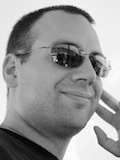 Vladimir is a lead consultant at ThoughtWorks, a global consultancy focused on revolutionising the IT industry and making a positive impact on the society.
Vlad's main passion is in helping people resolve issues and challenges. In his career, he has worked in most roles associated with an Agile project; he draws on the knowledge gained on these projects to help coach and guide delivery teams in technical and Agile best practices. More recently Vlad has focused on the Continuous Delivery space and the challenges people face in delivering the right solutions to the customers in a repeatable, low friction way.
Twitter: @vsneblic
So, you've read the book, listened to a few talks on CD and are convinced that this is something your organisation should be paying more attention to. But the first challenge is, how do you convince other parts of the organisation and the senior management that they should invest time and money into this initiative.
This talk focuses on identifying some of the main obstacles to CD adoption and discusses approaches to resolving them. We will take a look at issues within the delivery team, team's interaction with the business as well as getting the buy-in from senior stakeholders.