GOTO is a vendor independent international software development conference with more that 90 top speaker and 1300 attendees. The conference cover topics such as .Net, Java, Open Source, Agile, Architecture and Design, Web, Cloud, New Languages and Processes
Bolot Kerimbaev, Tweet
Sensei at Big Nerd Ranch Europe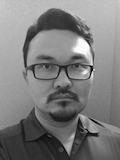 Bolot is a Sensei (senior software engineer and instructor), who came to Amsterdam on Koninginnedag (Queen's Day) in 2012 to help establish the European branch of Big Nerd Ranch. He develops mobile apps for iOS and Android and teaches the Big Nerd Ranch Beginning iOS courses in the Netherlands. He also likes tango, taido, toasts, and tortillas.
Twitter: @bolot
Track:
Mobile
/
Time: Wednesday 10:20 - 11:10
/
Location: Veilingzaal
While modern mobile devices have the computing power of desktops from a decade ago, developing for mobile is still about managing constrained resources: battery, CPU, etc. Various operating systems offer SDKs that provide solutions to common needs, such as managing UI, networking, multitasking, etc. But complexity goes beyond the device itself. Most non-trivial apps communicate with the outside world. How do iOS, Android, and other mobile OSes help developers to create apps.