GOTO is a vendor independent international software development conference with more that 90 top speaker and 1300 attendees. The conference cover topics such as .Net, Java, Open Source, Agile, Architecture and Design, Web, Cloud, New Languages and Processes
Mike Lee, Tweet
Mayor of Appsterdam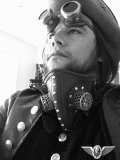 Before he was known as the Mayor of Appsterdam, legendary product engineer and world's toughest programmer Mike Lee (@bmf) worked on apps for Alaska Airlines, Delicious Monster, Tapulous, United Lemur, Apple, and Nextive, producing such hits as Delicious Library, Tap Tap Revenge, Obama '08, and Apple's Mobile Store.
After establishing Appsterdam, the worldwide collective of App Makers with their capital in Amsterdam, Mike moved on to start the New Lemurs, an Amsterdam-based startup with the stated goal of making games educational, and the coolest URL of all time: http://le.mu.rs.
(Followed closely by the URL for his blog, http://mur.mu.rs)
Mike's love of lemurs is well known. He has the world's largest collection of plush prosimians, and once bought over 100 plush lemurs in a $12,000 fundraiser for the Madagascar Fauna Group. His life's goal is to save Madagascar.
When he's not working to change the world, he spends quiet time at home in the 17th century canal house in Amsterdam where he lives with his partner Judy and their cats, Wiebel and Wobbel. Mike enjoys racing cars, flying airplanes, and playing guitar, but he's also content sitting beside the canal, sharing a single-cask whisky with friends.
Twitter: @bmf
Time: Wednesday 17:00 - 17:50
/
Location: Effectenbeurszaal
There was a time when mobile computing and productized apps were magic fairy dust that sprinkled money all over a project. Those were good times. The big bang, the heady expansion, the flash of chaos as the past gave way to the future. But now that the future is the present, and the gold rush is over, where do we go from here?
What kind of ideas are worth pursuing? Are app-based startups a thing anymore? What kind of business plans make sense? Is there room for indie apps? How about indie games? Can we still make a living doing this? Can we still live the dream and be our own boss? Can we still be artists?
Mike Lee has been there along the way, and will share his war stories and market analysis from having witnessed history being made. You won't want to miss it!