GOTO Amsterdam (June 17-19, 2015) is a vendor independent international software development conference with more that 50 top speakers and 500 attendees. The conference covers topics such as AngularJS, Disruption, Docker, Drones, Elasticsearch, Hadoop, Microservices & Scrum.
Benjamin Hindman, Tweet
Founder of Mesosphere & Co-creator of Apache Mesos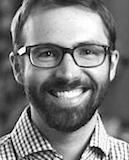 Benjamin Hindman is a Founder and Chief Architect at Mesosphere where he leads a team building out core services for the Mesosphere Data Center Operating System (DCOS). Ben co-created Apache Mesos as a PhD student at UC Berkeley before bringing it to Twitter where it now runs on tens of thousands of machines powering Twitter's datacenters. An academic at heart, his research in programming languages and distributed systems has been published in leading academic conferences.
Twitter: @benh
Track:
Docker
/
Time: Friday 14:30 - 15:20
/
Location: Effectenbeurszaal
As you grow the number of machines in a cluster, you also grow its complexity. Docker is great on a single machine, or small handful of machines, but can it be used to build applications that scale across an entire datacenter or cloud? Can it be used to deliver large-scale distributed systems, including datacenter services like Hadoop, Cassandra and Kafa?
In this talk, Benjamin Hindman, Co-creator of Apache Mesos, will explain how leading companies like Twitter bring high degrees of automation to large container-driven clusters. He will also explain how to build new distributed systems using Docker.
In this talk, Ben will take you beyond managing individual machines and show you how create highly-elastic, highly-available systems that manage failures, reduce operational complexity, increase utilization, and create business flexibility.
Track:
Docker
/
Time: Friday 15:50 - 16:40
/
Location: Effectenbeurszaal
During the Docker Predictions Panel attendees, speakers and the host of the Docker track will try to predict the big announcements at the DockerCon15 in San Francisco. DockerCon15 will take place just days after GOTO Amsterdam.
Last time at DockerCon14 Europe, here in Amsterdam, Docker Inc. announced Swarm, Machine, Compose and Docker Enterprise Hub.
If you think you know where they are heading this year, come and tell the world!
This panel will be facilitated by Mark Coleman who will ensure a memorable and fun experience for all attendees.