GOTO Amsterdam (June 17-19, 2015) is a vendor independent international software development conference with more that 50 top speakers and 500 attendees. The conference covers topics such as AngularJS, Disruption, Docker, Drones, Elasticsearch, Hadoop, Microservices & Scrum.
Buddy Michini, Tweet
CTO & Founding Team at Airware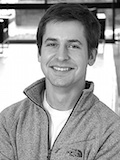 Buddy has a BS, MS and Ph.D. in Aeronautics and Astronautics from the Massachusetts Institute of Technology (MIT). His research has included adaptive control for indoor UAVs, autonomous battery swap for aerial platforms, autopilot design for R&D, and robot learning from demonstration. He is currently the CTO at Airware, where he's helping to build a hardware, software, and cloud platform for commercial drones. Buddy spends any spare time that he has building flying robots of all kinds and ruthlessly automating his homebrewing setup.
Track:
Drones
/
Time: Friday 13:20 - 14:10
/
Location: Graanbeurszaal
During this talk, Airware CTO Buddy Michini will share lessons learned in building a reliable yet customizable hardware/software/cloud platform for commercial drones. He'll tell the story of how Airware grew out of a kitchen in Newport Beach to become a venture-backed startup in San Francisco, and the many stages in between. Technical aspects of the platform will also be covered, including the high-level architecture and APIs designed to enable app developers to customize the system at every level of the stack.