GOTO Berlin is a vendor independent international software development conference with more that 60 top speaker and 400 attendees. The conference cover topics such as Java, Open Source, Agile, Architecture, Design, Web, Cloud, New Languages and Processes.
Christian Johannsen, Tweet
Solutions Engineer at DataStax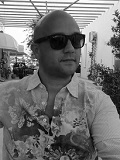 Christian Johannsen is a Solutions Engineer at DataStax, covering the DACH region. Christian was an integration and automation specialist in the virtualisation space and wanted to get more involved with the BigData scene. As an integration specialist he worked a lot with API´s and data exchange formats what now allows him to help customers integrate with Apache Cassandra and DataStax Enterprise.
Twitter: @cjohannsen81
Apache Cassandra is the right choice when you need scalability and high availability without compromising performance. It offers linear scalability for data velocity and volume, while providing fault tolerance of servers, racks and even data centres. Cassandra's data model offers the convenience of column indexes with the performance of log-structured updates, strong support for denormalization and materialized views, and powerful built-in caching.
This talk will cover these technical capabilities of Apache Cassandra and DataStax Enterprise, followed by some interesting use-cases. This talk will also show the value that Apache Spark adds to the ecosystem and why SolR is a good fit on Apache Cassandra data.