GOTO Berlin is a vendor independent international software development conference with more that 60 top speakers and 600 attendees. The conference covers topics such as Java, Open Source, Agile, Architecture, Design, Web, Cloud, New Languages and Processes.
Indy Khare, Tweet
Tech Lead & Manager at Google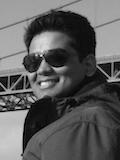 Indy has been designing and building mobile apps since 2008. After launching his mobile apps company the first day the iOS App Store opened, Indy has since led mobile teams at Bump Technologies and Google. Most recently he led the Android team that built the new Google Photos app that launched at Google I/O 2015.
Twitter: @ikhare
Mobile experiences require thinking differently through the entire lifecycle of building your app. This talk provides a holistic view to building mobile apps. Learn how to tailor your designs and user experiences around mobile; how to engineer an app so that your users are never staring at spinners in an environment with limited connectivity; and what metrics and data to be looking at to best evaluate the success of your app to successfully iterate.