GOTO is a vendor independent international software development conference with more that 90 top speaker and 1300 attendees. The conference cover topics such as .Net, Java, Open Source, Agile, Architecture and Design, Web, Cloud, New Languages and Processes
John Redwine, Tweet
Senior Program Manager | Talent Enhancement Michigan Economic Development Corporation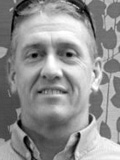 John is a Senior Program Manager in the Talent Enhancement department at the Michigan Economic Development Corporation. He connects Michigan employers and job seekers through the official state labor exchange system, Pure Michigan Talent Connect (
MiTalent.org
) and assists with programs to attract hard to find, out of state talent to Michigan. He is an expert user of MiTalent and trains employers and job seekers on best practices to take advantage of the tools and resources of the system.
Time: Tuesday 14:00 - 16:00
/
Location: Superior
John Redwine talks about how Michigan has developed a reputation of being a Tech Hub of the Midwest –with a rise in collaborative workspaces, an increase in investment, and IT entrepreneurs offering strategies to launch new tech enterprises that has led to a rise in the need for talent. Michigan is a state that is structured to welcome small businesses, and continues to provide future leaders access to learning institutions that have birthed people such as the co-founder of Google - Larry Page.