Sarah Taraporewalla, Tweet
Senior Consultant at ThoughtWorks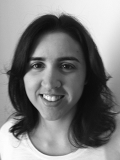 Biography:
Sarah Taraporewalla
Sarah Taraporewalla is a Senior Consultant working for ThoughtWorks, where she specializes in developing robust software for the future, delivered today. She has acted as developer, software architect, technical lead and agile coach at many projects and has spoken at both internal and external conferences and geek nights. Although primarily focused on software design, she also has a lot to say about how software can be developed to accommodate the changing pace of business. Sarah occasionally writes her thoughts down at
http://sarahtaraporewalla.com
, and whinges about the world via @sarahtarap. To learn how to say her name correctly, have a look at
http://sarahtaraporewalla.com/uncategorized/how-many-os-in-woolloomooloo/
Presentation: Tweet"What happened to People over Process"
When the Agile Manifesto was written, it was decided that there were only four simple statements at the heart of Agile. So, it is with great sadness that, when we scrutinise most teams, we discover the first, and arguably most important, of these statements is disregarded. Teams focus on Processes and Tools, rather than Individuals and Interactions.
This session aims to redress this balance, by focusing on what it means to value the individuals on the project and their interactions. We will take a dive into the human psyche, to see what happens behind the mask, take a trip into what it means to be a team, instead of just a group of individuals before finally exploring what it means to be a leader in an Agile team.