GOTO is a vendor independent international software development conference with more that 90 top speaker and 1300 attendees. The conference cover topics such as .Net, Java, Open Source, Agile, Architecture and Design, Web, Cloud, New Languages and Processes
Glenn Block, Tweet
Alt.NET mole in Microsoft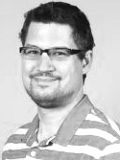 Glenn is a PM at Microsoft working on support for node.js in Windows and Azure. Glenn has a breadth of experience both both inside and outside Microsoft developing software solutions for ISVs and the enterprise. Glenn has been a passionate supporter of open source and has been active in involving folks from the community in the development of software at Microsoft. This has included shipping products under open source licenses, as well as assisting other teams looking to do so. Glenn is also a lover of community and a frequent speaker at local and international events and user groups.
Glenn's blog can be found at http://blogs.msdn.com/gblock or you can follow him on twitter at you own risk at twitter.com/gblock
Node.js provides a beautiful new platform for building server side applications, which until now has been inaccessible to the Windows developer. Microsoft has been working as a core contributor to the Node project to break this barrier and provide a great Node story on Windows. Come to this talk and we'll talk about Node.js, why you should care as a windows developer and how you can build node applications both on-premise and in Azure.