GOTO is a vendor independent international software development conference with more that 90 top speaker and 1300 attendees. The conference cover topics such as .Net, Java, Open Source, Agile, Architecture and Design, Web, Cloud, New Languages and Processes
Per Jonsson, Tweet
CEO & Co-founder at Omnicloud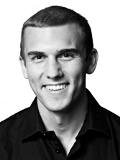 Per is a Swedish entrepreneur, engineer and changemaker passionate about creating technology that simplifies people's lives.
At the age of 18 he landed an entry job as an intern at ABB and within months he was working as a fully-fledged Sales Manager for high voltage substations, managing sales proposals with a value of 80 MUSD and putting on somber expressions trying to look older than he was.
At the age of 20, when he had already been running his own startup for two years, Per founded Young Entrepreneurs of Sweden (YEoS), the default network for the most promising young entrepreneurs in Sweden and counter-force to the Law of Jante.
At the age of 22, Per developed a software tool for Swiss conglomerate OC Oerlikon that reduced workload from one man-month down to two man-days. While pursuing his M.Sc in Engineering & Management at Linköping University and ETH Zürich, he extended his view towards scalable business models and launched a few ventures to battle-test his assumptions.
Today, Per is at a focal point for global impact as the Stockholm ambassador for Sandbox Network and as the CEO and co-founder of Omnicloud, a next-generation Platform-as-a Service. Via Omnicloud he is also an active contributor to the open-source PHP framework Melt.
Finally, he contributes to the startup community by running the Stockholm Lean Startup Circle where founders meet to learn how to develop customers and markets in a disciplined, iterative, and measured way.
Twitter: @perjonsson
Nine out of ten web startups fail. Why? What should they have done differently?
The patterns and behaviors of successful startups have long puzzled both researchers and practitioners. Today however, we have better answers than ever before. Those answers have been boiled down to what is called the Lean Startup; a number of models, techniques and strategies in product development with the purpose to increase the probability of a startup's success.
Per blends his own experiences as a startup entrepreneur with real world examples and concrete, actionable tools such as the Feedback Loop, Customer Development and the Lean Canvas to deliver some painful truths about how some of the most successful startups are run - and how you too can build a scalable product that people love and care about.