GOTO is a vendor independent international software development conference with more that 90 top speaker and 1300 attendees. The conference cover topics such as .Net, Java, Open Source, Agile, Architecture and Design, Web, Cloud, New Languages and Processes
Nikolaos Kaintantzis, Tweet
UI Technology Expert, Lead Architect & Trainer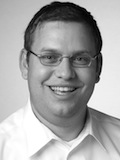 Nikolaos Kaintantzis is a lead software architect and trainer at Zühlke Engineering with more than ten years of experience in the field of Software Engineering. He is responsible for designing and developing complex and mission-critical software solutions with challenging requirements for their user interfaces. Nikolaos Kaintantzis is an expert in client technologies and has a strong interest in usability engineering and multichannel solutions. In addition to his ongoing work for customers, he leads the Java and HTML 5 group of Zühlke's Client Technology Competence Center and provides training in interaction design and requirements engineering.
Twitter: @xnka
Track:
Deciding Mobile
/
Time: Thursday 11:30 - 12:20
/
Location: Millennium B
Web or native? This discussion is hot again in the mobile development world with its diversity of operating systems and devices. Mobile apps catch our attention with new navigation patterns and cool user experience. This talk helps you to choose the right technologies for your needs. It answers the question on when to use HTML and when to go native by showing the limits and strengths of HTML5. You will find the facts and arguments to make a decision specific to your situation. Do you need to support different devices or even desktops? How does the user interact with your app? Should the look and feel be close to a native one or do you want your own distinctive look and feel on every device?
Want more? Zühlke Academy offers several trainings related to this topic. For example UI Engineering