Jeff Wilcox, Tweet
Microsoft Silverlight for Windows Phone 7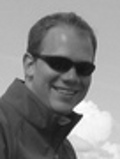 Biography:
Jeff Wilcox
Jeff Wilcox is a Senior Software Development Engineer on the Silverlight team, working on Silverlight for the Windows Phone and its application development story. Jeff was a founding member of the Silverlight Toolkit team and designed the Silverlight Unit Test Framework. Previously he worked on the ASP.NET team. Jeff is an alumnus from the University of Michigan with a degree in Computer Science.
Software Passion: Being a part of the generation that's moving software far away, into the cloud, and yet closer than
Links:
Twitter: @jeffwilcox
Blog: http://www.jeff.wilcox.name/

Presentation: Tweet"Exploring Windows Phone 7 Application Development"
Windows Phone 7 brings a new development experience and app platform. You will learn about the new programming model, tools & information on building applications for the phone, and you'll leave with an understanding of the benefits and limitations that will help your WP7 development experience to be successful.

Keywords: Windows Phone, .NET, Silverlight, Microsoft, Silverlight for Windows Phone
Target Audience: Engineers and technical leads interesting in learning about the Windows Phone development story from start-to-finish.