GOTO Aarhus Conference Venues
CONFERENCE: October 4-6, 2010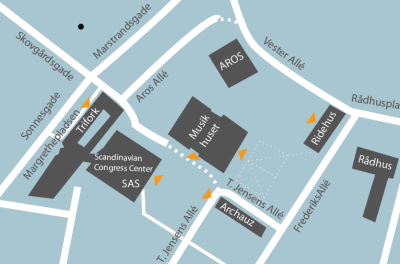 The keynotes and most tracks will take place in Musikhuset (The Concert Hall). In the foyer of Musikhuset you will find the exhibition area. The solution track will run in Archauz (Center for Modern Dance).
Catering
At Goto Aarhus you will find catering indoors all day. Find water and coffee at different stations in the conference area in Musikhuset.
The lunch is served in Ridehuset from 12.30 -13.30 each day. Ridehuset is an old building used for training horses situated just next to Musikhuset. In the afternoon you will find coffee, tea & cake/fruit in the exhibition area in Musikhuset.
Training Venues
TRAINING: October 3, 7-8, 2010
Training takes place in Musikhuset, in the SAS Radisson in Scandinavian Center and in the Trifork Office. The entrance to the Trifork Office is located on Sonnesgade.
Registration for traning will take place at each training location. We will be open for registration at 08:00 am. Lunch is served from 12:00 - 13:00 on the training location.
Addresses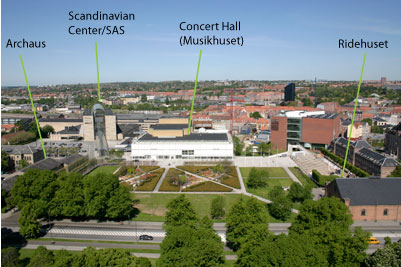 Scandinavian Center:
Margrethepladsen 1
8000 Aarhus C
Musikhuset Aarhus:
Thomas Jensens Allé
8000 Aarhus C
Archauz:
Valdemarsgade 1
8000 Aarhus C
Ridehuset:
Vester Allé 3
8000 Aarhus C
Trifork A/S:
Margrethepladsen 4
8000 Aarhus C