Jonas Jacobi, Tweet
Co-founder of Kaazing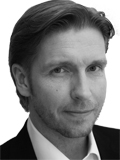 Biography:
Jonas Jacobi
As co-founder and chief executive officer of Kaazing Corporation, Jonas Jacobi sets the company's business strategy and oversees all aspects of Kaazing's operations and mission to become the world-wide leader in real-time software.
Before co-founding Kaazing Jonas Jacobi worked as VP of Product Management responsible for the product management and marketing strategy for Brane Corporation, a startup company in Silicon Valley. A native of Sweden, Mr. Jacobi has worked in the software industry for more than sixteen years. Prior to his appointment as vice president for Brane, he worked 8 years for Oracle as a Java EE and open source Evangelist, and product manager responsible for the product management of JavaServer Faces, Oracle ADF Faces, and Oracle ADF Faces Rich Client in the Oracle JDeveloper team.
Mr. Jacobi is a frequent speaker at international conferences and has written numerous articles for leading IT magazines such as Java Developer's Journal, JavaPro, AjaxWorld, and Oracle Magazine. Jonas is co-author of the recently published book Pro JSF and Ajax: Building Rich Internet Components, (Apress).
Software passion: Software is limitless, and it allows me to break barriers and do the "impossible".
Links:
Blog: http://www.jroller.com/jonasjacobi/ Demo: http://www.kaazing.me Book: Pro JSF and Ajax: Building Rich Internet Components Book: Pro HTML5 Programming: Powerful APIs for Richer Internet Application Development Twitter: http://twitter.com/jonasjacobi
Presentation: Tweet"HTML5 Websockets: A New World of Limitless, Live, and Wickedly Cool Web Applications"
Buzz, buzz, and more buzz. W3C's HTML5 standard has rapidly gained momentum as 2010's hottest technology buzzword. Developers and businesses alike are all trying to catch and align themselves with this new standard. Out of all the ideas and features in this new set of specifications, the most intriguing, exciting, and controversial section is HTML5 WebSocket. At first glance, some misinterpret WebSocket as merely a better transport protocol and replacement of HTTP or XHR. However, upon additional understanding, one quickly learns WebSocket is NOT a replacement or improved version of HTTP or XHR, nor do we want it to be!


If we look at the current hype around PaaS, Cloud, pre-built business widgets and applications, virtualization, payments etc… they have all forgotten to look at the road. The actual tarmac that makes all of this communicate. We all assumed the Web was just there, and that HTTP provided everything we needed for Web communication. HTML5 Websocket is the evolution of the communication fabric TO, ACROSS and WITHIN the Web/Cloud, and now we need to open our minds and start looking at the possibilities of this new way to communicate over the Web! Think BIG, really BIG!

This session is going to stretch your mind and provide you with the necessary information on making an educated assessment of the business and technical opportunities, and challenges, made possible by this new standard. Demos, code examples, and comparisons with existing technologies and architectures will be used to illustrate these possibilities and their use cases.
Keywords: Architecture, HTML5, WebSockets, Enterprise, Hot Topic, Java, .NET, JavaScript, Flash, Web 2.0

Target Audience: Developers and architects looking for better ways of increasing user experience and communication over the Web by creating, improving, or
replacing existing Web applications. Tech souls that just want to stretch their minds and learn about what is made possible by this new HTML5 standard.