Olav Maassen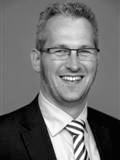 Biography:
Olav Maassen
Ten+ years experience in (IT) projects mainly for financial institutions. He is co-author of "Applied Java Patterns" and an experienced speaker at conferences. His main interest is in helping teams and organizations work together more effectively. Olav strives for continuous improvement both for himself as for those he works with.
Software passion: Improving user and stakeholder experience
Links:

Presentation: Tweet"Real Options - Theory and Practice"
You will learn about the theory and practice of Real Options. The practice will tell you the tools we have today. The theory will help you create new tools.
Keywords: Learning, agile, lean, last responsible moment
Target Audience: Anyone who makes decisions.