GOTO Berlin is a vendor independent international software development conference with more that 60 top speakers and 600 attendees. The conference covers topics such as Java, Open Source, Agile, Architecture, Design, Web, Cloud, New Languages and Processes.
Sebastian Janzen, Tweet
Developer and Senior Consultant at innoQ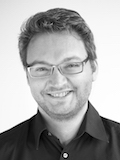 Sebastian Janzen is a Developer and Senior Consultant at innoQ Deutschland GmbH. Since 2007, he is working on web technologies. Recently he is dedicated to Internet of Things projects and frontend technologies like AngularJS which he is using since 2013.
Twitter: @sebbe128
Why should a user buy an expensive IoT-Solution? Because it provides convenience. But to unleash the full potential, the user needs freedom to access all functions of a connected thing to support his special use case. Sadly, this often get lost in abstractions to support only the common features of a device class. In this talk I'll show some examples of how to model things and how Eclipse SmartHome can help you to get the best experience for developing and using your IoT solution.