GOTO Berlin is a vendor independent international software development conference with more that 60 top speakers and 600 attendees. The conference covers topics such as Java, Open Source, Agile, Architecture, Design, Web, Cloud, New Languages and Processes.
Tero Huttunen, Tweet
VFX Refugee at Siili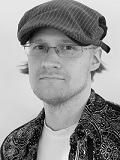 Tero made the switch from the VFX industry in 2014 to work as a software engineer at Siili Solutions in Berlin. He leads Siili's 3D and VR unit, spends his time building web based prototypes, real-time 3D applications for various platforms and helps clients design teams with his 3D visualization expertise.
It's been a long time coming, a really long time in fact — but Virtual Reality has finally arrived. Again. — In 2016, VR hardware and software will be available to the masses in sufficient quality and we can't wait!
Consider this talk your crash course for the paradigm shift. Forget what you know from your work on traditional HMIs. We'll discuss underlying technical concepts, user experience and interfaces in VR and give an overview over software as well as hardware solutions to kick–start your first VR projects.