GOTO is a vendor independent international software development conference with more that 90 top speaker and 1300 attendees. The conference cover topics such as .Net, Java, Open Source, Agile, Architecture and Design, Web, Cloud, New Languages and Processes
Madhur Kathuria, Tweet
Agile Coach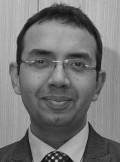 A Certified Scrum Trainer , Certfied Scrum Coach and an Enterprise Agile Transformation coach by profession, a nomad by choice, and a networker through passion, I look forward to life as a vault full of opportunities and I strongly believe every person has the right key to unlock this potential. My firm belief in agile philosophy and principles brought me to the world of Agile coaching and transformation and after being lucky to be certified as India's first Certified Scrum Coach (CSC), my endeavor is to spread the benefits of Agile by helping others adopt the essence of Agile methods and avoid the Scrumyths.. Having connected with close to 11000+ friends and colleagues till now through agile coaching, training and conferences, the hunger is still alive to make more friends in our small agile world. So, do drop me a line, if I could be of any help...
Twitter: @madhurkathuria
Scrum is by far the most used ( and abused !!) Agile framework in use currently across the globe.

But is Scrum working for you? Is it making your team more productive or restricting them? You are working on a POC or an R&D project and two weeks seems too far to get feedback? Is Scrum really suitable for all your products and projects?

Most organizations and teams adopting Scrum have had to answer these questions sooner or later and they have struggled to find the right answers...and I am sure YOU have been there too.
Till date 15 organizations have adopted Battlefield Agility and they have reported up to 45% increase in their productivity over traditional Agile methods. Your Army is here to help you think beyond Scrum and reap the benefits of Agility.

The authors of 'Battlefield Agility', a framework for supercharged Agile teams, borrows the key principles of continuous success and discipline from the Armed Forces. The Army often exults memories of command and control, but time and time again, through multiple battles Army units emerge successful. So, is there a hidden mantra there, which we can use to make our teams more effective and productive? Combining principles from the Army with people focus from Agile and behavior management from the Fish! Philosophy, Battlefield Agility provides a sustainable path to success.
In this presentation, you will learn the principles and practices of Battlefield Agility, how to use them daily at your workplace and how you can build supercharged teams that continuously succeed in their goals.