Doug Talbott, Tweet
Product Design Consultant, Bedarra Research Labs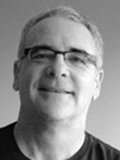 Biography:
Doug Talbott
Doug Talbott is a product design consultant with Bedarra Research Labs (BRL) specializing in the research and development of user interface designs and advanced visualization solutions for complex systems.

He has over 25 years of experience in producing and/or managing the development of award-winning content, visual design, user experience design and instructional design for organizations such as Cognos, IBM, Department of National Defence, Department of Finance, Secretary of State, Nortel Networks, OTI, Carleton University, and Honeywell Information Systems.

He holds numerous design patents. Most notably, he is a co-inventor of the visual language for iLog's Telecom Graphics Objects (TGO) product – the defacto visual standard in telecommunications management user interfaces.
Doug holds a B.F.A in Communications Design. He teaches graphic design part-time at Online-Learning.com and is a regular guest lecturer at Carleton University's Human Oriented Technology (HOT) Lab.
Software Passion: Making the world of software, a better place for people

Presentation: Tweet"Agile Envisioning: Building It Right, The Third Time"
Too often, software projects fail because the development team never really understood what the customer wanted or became mired in a technological quagmire that crippled the final product.

Agile Envisioning couples user-centered design with technology exploration to ensure that the right product is built with the right technology. It is a fast, iterative, front-end activity that allows the design team to establish a clear product vision and roadmap before major development begins.

By the end of this session, you will have an understanding of:
• where envisioning fits in the overall Agile process,
• the purpose and value of envisioning,
• the kinds of skills and attributes that are needed on the envisioning team,
• the various activities that are performed by the team,
• the various questions that need to be asked upfront ,
• the various artifacts that are produced during envisioning.
Keywords: Agile, agile development, product design, product planning, new product definition, user needs assessment, requirements capture, software prototyping, rapid prototyping, paper prototyping, usability testing, product verification, agile requirements, acceptance criteria, building better backlogs
Target Audience: This session is intended for product managers, development managers and product team members who are involved in or responsible for product planning, definition and design.