GOTO is a vendor independent international software development conference with more that 90 top speaker and 1300 attendees. The conference cover topics such as .Net, Java, Open Source, Agile, Architecture and Design, Web, Cloud, New Languages and Processes
Daniel Hirschmann, Tweet
Artist, Maker & Educator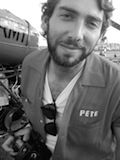 Daniel Hirschmann is an artist, maker and educator who uses relationships and technology at the core of his practice. He has been making interactive installations, spaces and objects for over 10 years and has worked with organisations ranging from Nike, and AOL to the Science Museum and the Whitney Museum of Art. He has shown work internationally and has taught physical computing, Arduino, programming and interaction design locally and abroad for over 8 years. He geeks out about meaningful new businesses, making and awesome tech.
In 2010 he founded Hirsch & Mann Ltd – an interactive design consultancy based in East London which creates bespoke responsive objects and environments.
In 2011 he co-founded Technology Will Save Us a haberdashery for technology and education - helping people to become producers and not just consumers of technology.
Twitter: @danielhirschman
Our relationship with technology is changing. For decades, consumers have been expected to accept their technology related interactions as a product of the design teams of their favourite product companies. As the tools behind technology development have become more accessible, local communities have grown around the creative applications of these technologies. With the power of the internet, those communities have grown without the restrictions of geography. If we follow this natural trajectory, it won't be long before more and more people become the authors of their own interfaces. These tools, and their related growing communities, are lowering the barriers to entry for almost any industry to try their hand at creating new software and hardware interfaces. The shift is now moving towards the everyday consumer. During this talk, we will look at some of the history, and how enterprises have started to engage with these new developments. We will also catch a glimpse of some very interesting consumer level interface creations - made by people for people - and how this is challenging the industry.