GOTO Amsterdam (June 13-15, 2016) is a vendor independent international software development conference with more than 60 top speakers and 800 attendees. The conference covers topics such as Microservices, Rugged, JavaScript, Post-Agile, Data, Spring++, Connected Worlds & Philosophy.
Allard Buijze, Tweet
CTO at Trifork Amsterdam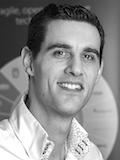 Allard Buijze, Chief Technical Officer Trifork. As a member of the management team Allard is responsible for Trifork's ability to translate clients' business challenges into pioneering technical strategies and solutions. Allard is client-oriented and actively involved in helping customers reach appropriate future-proof, technical decisions.
Allard brings a vast amount of knowledge and experience to this role. As a former software architect specializing within the field of "scalability" and "high- performance" computing, he has worked on several small and large projects, where performance is often a recurring theme. Allard is convinced that a good domain model is the beginning of contributing to the overall performance of an application. From this conviction, he has developed the Axon Framework. He regularly gives workshops and trainings in frameworks, best practices and architecture. He also regularly speaks at conferences, seminars and meet-ups.
Twitter: @allardbz
Web: axonframework.org
Axon Framework is becoming quite popular for projects where a complex domain has to be combined with high scalability van performance. Based on a number of use-cases, Allard Buijze will explain how Axon framework helps developers to address several non-functional aspects, common in many applications nowadays. Learn how event sourcing can help with auditing requirements and detect fraud. How the event-driven model and location transparence of Axon components helps break a monolith into microservices. You will also see how GeriMedica's data helps improve healthcare in general and how Casumo, an online casino, keeps their spin-button fast, while ensuring full compliance with regulation.