GOTO Amsterdam (June 13-15, 2016) is a vendor independent international software development conference with more than 60 top speakers and 800 attendees. The conference covers topics such as Microservices, Rugged, JavaScript, Post-Agile, Data, Spring++, Connected Worlds & Philosophy.
Feico Mol, Tweet
Team Lead at Atlassian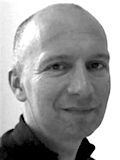 Feico runs the channels team in EMEA for Atlassian. With more than 20 years of experience in enterprise software including roles in partner management, pre-sales and product marketing, he feels at home at Atlassian and intends to stay there till his retirement in 2037.
Twitter: @FeicoMol
Imagine a culture where the input of the whole organization turns an individual idea into a user story in just a couple of hours, where everybody's goal is to make the customer's job easier and more effective, and where you work on projects you love instead of projects you loathe. A great coding culture concentrates on making developers productive and happy by removing unnecessary overhead, bringing autonomous teams together, helping the individual programmer to innovate, and raising awareness among developers about how to create better code.
I will talk about how to establish and foster a strong engineering-focused culture that scales from a small team to a huge organization with hundreds of developers. I'll give lots of examples from our experience at Atlassian to show that once you're working in a great coding culture, you won't want to work anywhere else.